While a classical salade Niçoise with tomatoes is more suited to summer, this version with figs, pomegranates, and sweet potatoes is perfect for fall. Not to mention, it's great for meal prep!
Nicoise salad is one of my favorite dishes to make for guests during the summer. Primarily because of the way it capitalizes on seasonal produce. The true French version of a Nicoise Salad contains fresh radishes, tomatoes, and cucumbers, boiled green beans and small potatoes, black olives, canned tuna or anchovies, and hardboiled eggs. It can be served tossed together with a vinaigrette or composed with a thick and garlicky aioli for dipping. It's exactly as refreshing as it sounds on a sweltering day.
The problem I had this year when I made it was that I didn't have any guests to feed, and my partner and I were left with way more food than we could eat in one sitting.
And then it dawned on me. Those couple hours I'd spent trimming green beans, chopping fresh veggies, and boiling potatoes and eggs had basically been meal prep, because we were going to be eating these leftovers all week long.
In addition to being meal prep in disguise, the Niçoise salad is infinitely riffable
You don't have to dismiss it just because fall has arrived. Swap out the summer ingredients for autumn ingredients that have the same effect. Think, figs for tomatoes, sweet potatoes for regular potatoes. These produce a dish that has a similar vibe but is more appropriate for the current season.
Though the French may turn their nose up at my inauthentic rendition of a Niçoise salad, it does retain certain essential elements from the original, like black olives, green beans, eggs and an aioli-style sauce that pairs well with everything on the plate.
Perfect for Gatherings and Meal Prep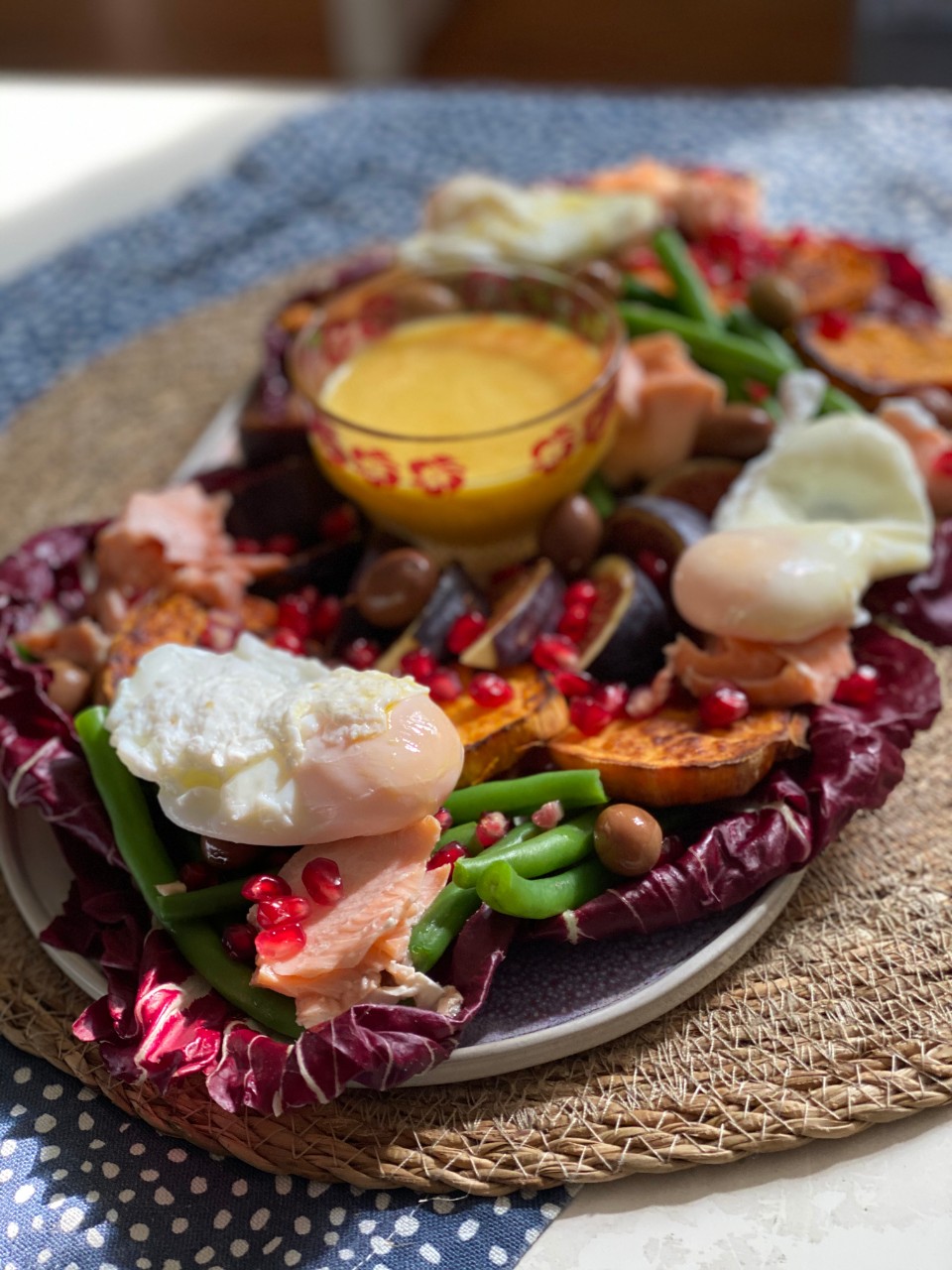 The whole thing together basically tastes like French Thanksgiving (not complaining). However, the separate elements can also be worked into a variety of dishes.
After a day of testing this recipe, I repurposed the green beans in both a pasta and rice dish. I baked the sweet potatoes into a frittata. And I've been eating the remaining figs and pomegranate seeds over yogurt every morning for breakfast since. As long as you pack up the elements properly in airtight containers, they'll stay good to eat in your fridge for the whole week.
Here are some additional ideas to help you put your leftovers to work.
Green Beans
As I mentioned above, you can easily drop these plain green beans into any dish that needs extra veggies. Fried rice, soup, pasta, egg scrambles—almost all savory recipes can benefit from a fresh, green crunch. However, I will admit that these are also great for snacking on by themselves. This is because they are still quite crunchy after their brief cooking time. Eat them with the any leftover maple aioli you still have, or whichever dip you always have around, whether that's hummus or ranch.
Salmon
What's left of the roasted salmon can be repurposed in so many ways. I like to shred what's left and add it to frittatas, though it's also great tuna salad-style with plenty of mayonnaise. Fish cakes are an option as well. The one thing with this is that you should try to eat it as quickly as possible, as seafood is notorious for going sour in the fridge more quickly compared to other proteins.
Pomegranate seeds
While the leftover seeds are great for snacking, they're also worth using in something else. Add them to just about any breakfast—oatmeal, yogurt, smoothies, you name it—or reserve them for something a little more special, like a baked treat. I sprinkled some on top of an upside-down apple cake at that last minute and couldn't have been happier with the results. As they cook they become a bit jammy and chewy like candy and it's delightful. Feel free to add them to any dessert you feel like—if it seems like a good idea, it probably is!
Sweet Potatoes
What can't you use these leftover sweet potatoes in? Since they're mostly undoctored, they're ideal for all your usual favorite sweet potato recipes, whether that be in curry or a leafy green salad, or beneath a mountain chili and cheese. Chop it up for a stir-fry, let it simmer in a stew until it becomes wonderfully tender, or puree it with spices for an excellent dip—the possibilities are endless!
Eggs
Whether you've opted to poach or boil your eggs, what's leftover is a great candidate for egg salad, and therefore egg salad sandwiches. It's also a nice way to sneak protein into recipes that normally don't have a lot, like a simple veggie and rice bowl or on top of ramen.
Figs
Like the pomegranate seeds, the leftovers of this fruit are great for snacking. But if you'd rather get a bit experimental, try baking them into something. If there are a lot remaining, go big and make a fig galette like this one. Or keep it simple and add it to your morning yogurt. When in doubt, make fig jam.
Autumnal Niçoise-Style Salad
Rating
Votes: 0
Rating: 0
Rate this recipe!
Prep Time
40 minutes
Cook Time
1 hour
Servings
people
Ingredients
2

sweet potatoes

peeled and sliced into 1/2-inch circles

2

TBSP

olive oil

salt and pepper

2

medium

salmon filets

1

lemon

1

TBSP

white wine

1/2

lb

green beans

ends trimmed

4

eggs

divided

1

tsp

dijon mustard

1/4 cup and 3

TBSP

neutral oil

like grapeseed or safflower

1

TBSP

maple syrup

Radicchio leaves

4

figs

quartered

1

pomegranate seeds

deseeded

black olives
Instructions
Bake sweet potatoes: Heat oven to 350 degrees F. Place sweet potato rounds on a large baking sheet lined with parchment paper or aluminum foil and toss with 1 TBSP olive oil and salt and pepper to taste. Transfer to oven and bake for 20 minutes until browned on one side. Then, flip sweet potato slices and rotate baking sheet to ensure it cooks evenly. Remove and let cool.

Bake salmon: If you're using canned salmon, you can skip this step. While potatoes are cooking, place salmon in a small baking dish with a lid or on top of a piece of aluminum foil. Thinly slice half of lemon into rounds and place on top of the filets. Then, drizzle with 1 TBSP olive oil, 1 TBSP of white cooking wine, and salt and pepper to taste. If using aluminum foil, wrap tightly so no steam can escape. Transfer to oven and let bake with potatoes for 20 minutes. No peeking, otherwise you'll let the steam escape! Remove and let cool with lid on.

Blanch green beans: While salmon and potatoes are baking, bring a large pot of well-salted water to a boil. Meanwhile, fill a large mixing bowl with ice and water (you'll use this to blanch the green beans). When water has reached a rolling boil, add green beans and let cook for 2 ½ minutes until slightly tender yet still bright green. Using a sieve, remove the green beans from the pot, reserving water for later. Transfer green beans to ice water until fully cooled (this helps them retain their color!), then drain and set aside.

Make maple aioli: Crack open one egg and separate the yolk and whites. Pack up the whites to use at a later point if so desired because you won't need them here. Juice remaining half of lemon and add to bowl with yolk along with a tsp of Dijon mustard, whisking vigorously to combine. Slowly stream in ¼ cup and 3 TBSP neutral oil while whisking constantly to emulsify. You'll know it's ready when it becomes slightly thicker and the oil is fully incorporated. Season with maple syrup and salt and pepper to taste.

Poach eggs: Return pot of water to a low simmer. You should be able to touch the water without burning yourself, but it should still be very hot. Don't let water boil because that will destroy eggs. Working one at a time, break egg into a small bowl or mug. Add a tsp of white vinegar and create a whirlpool in the pot by moving the end of a wooden spoon in a circular motion. Working quickly, remove spoon and gently submerge egg into water. Let cook until whites and yolk are just set, about 3 minutes. Remove with a slotted spoon and transfer to a paper-towel lined plate. Repeat with remaining eggs (If you prefer something easier, make soft-boiled eggs instead. Don't crack eggs and cook them in boiling water for 7 to 8 minutes, transferring them to an ice bath immediately after so they don't continue to cook.)

Put it all together: Line a serving tray with radicchio leaves, and arrange sweet potatoes, salmon, green beans, eggs, figs, black olives, and pomegranate seeds as desired. Serve maple aioli in a small bowl for dipping. Alternatively, pack up all the ingredients into separate meal prep containers and use them in your breakfast, lunches, and dinners throughout the week.