"It's like stovetop mac and cheese meets a burrito bowl." That's how I described this burrito bowl pasta to my partner when I let him have a taste.
The verdict? Well, I guess anything with Mexican flavors (which are amazing) combined with pasta (also amazing) is an instant hit!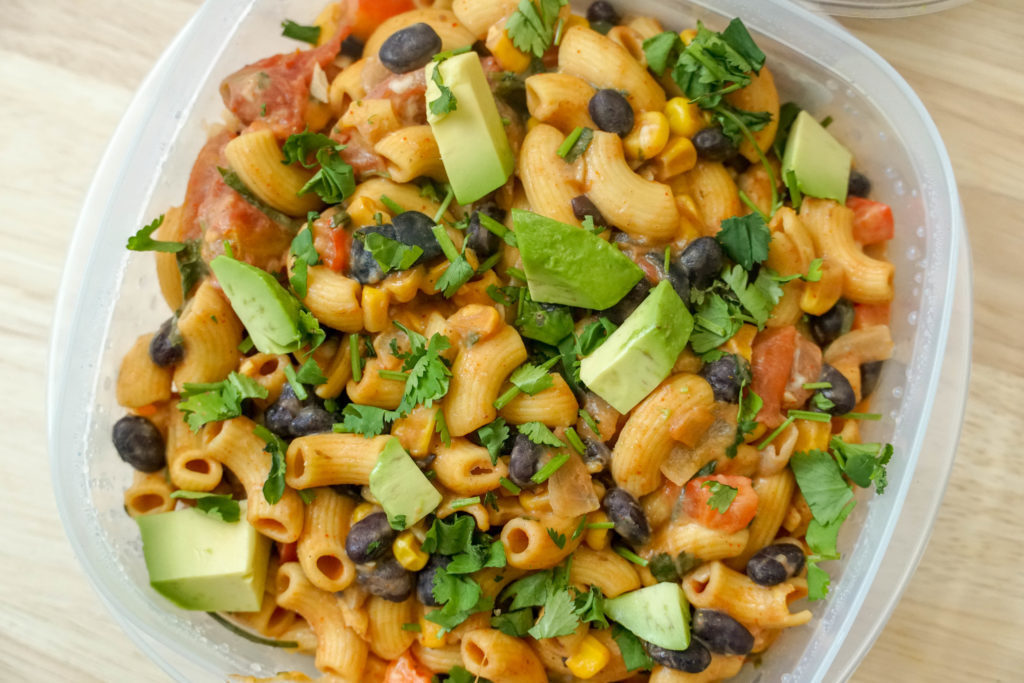 I mean look at this bowl of cheesy, flavorful goodness!
Originally, I set out to develop a one-pot taco pasta but it turned into more of a burrito bowl thing. I'm not upset about it.
Here's how to make this burrito bowl pasta your own!
Change up the pasta
I used Banza chickpea pasta for this, but you can use any kind you want! Just make sure it's "short" pasta (as in, not spaghetti or fettucini). Look for rotini, bowties, macaroni elbows and penne.
Change up the bean
Here, we're using black beans but you could totally use pinto beans or kidney beans (or skip them altogether).
Change up the protein
Instead of using ground beef, use ground chicken, turkey, or chorizo!
Other plant-based protein ideas
Black beans are an excellent plant-based protein, but if you're not into that (or you want more) you can choose a protein pasta, like Banza. You can also use vegan "meat" crumbles (the same way you'd use ground meat) or something like Soyrizo in this recipe. Adding in 1/2 cup cooked quinoa to the dish (mixing it in with the cheese during that step) is also a good way to add more plant-based protein.
Trust me though, this meal is plenty filling as is!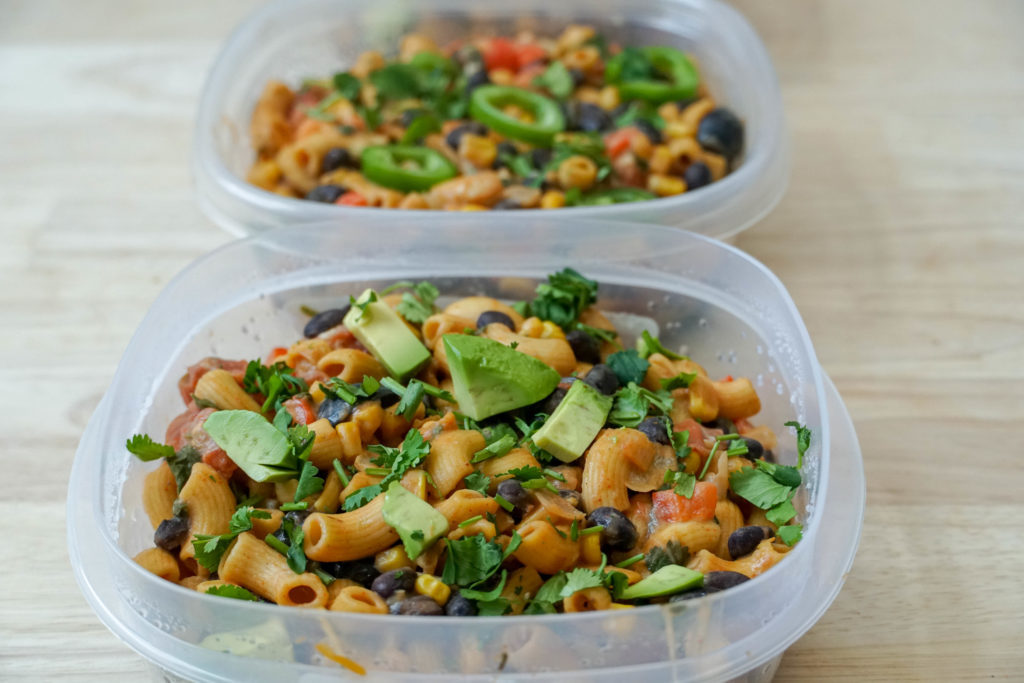 Change up the veggies
As always, you can swap in/out your favorite veggies for this meal. Just make sure they're chopped small so they mix in easily! Any of these work:
spinach or kale
bell pepper
green beans
asparagus
mushroom
more tomato (note there's a can of diced tomatoes in this recipe already)
poblano pepper
zucchini
red onion instead of yellow onion
sweet potato – cook in the pan before the pasta goes in though
I loved the corn, onion, tomatoes and cilantro in this meal because they were so easy to quickly add to the pan and incorporate into the meal.
Make it vegan/dairy-free
The only thing that makes this meal not completely vegan is cheese. You don't have to add it though (it will still be so good) or you can use your favorite vegan cheese.
Use taco seasoning or make your own blend:
In this recipe, it's more convenient to just use pre-made taco seasoning! But if you want to make your own version, here's what you need to make 1 TBSP taco seasoning (the amount needed in this recipe).
1 tsp chili powder
1 tsp ground cumin
1/4 tsp onion or garlic powder
1/4 tsp dried oregano
1/4 tsp paprika
1/4 tsp salt
How to add more volume or double this meal:
To double this meal, get another skillet out and double the ingredients. I don't think you should try to cook a double portion in one skillet, so either do it in batches or do two skillets on the stove at once.
To add more volume, choose another veggie first. I'd add bell pepper or zucchini to start. Then consider adding another can of beans or another protein source like veggie "meat" crumbles or ground meat. More pasta works too.
Storage & reheating notes:
This burrito bowl pasta lasts for up to 4 days in the fridge. I haven't tested it in the freezer, but I think it would totally work as a freezer meal for up to 3 months! It reheats well in the microwave or on the stove. Note that I added avocado on top for the photo – you should add it before eating, if using!
Happy prepping!
One-Pot Cheesy Burrito Bowl Pasta
Rating
Votes: 0
Rating: 0
Rate this recipe!
Prep Time
5 minutes
Cook Time
20 minutes
Servings
meals
Ingredients
1

TBSP

oil

of your choice

1/2

yellow onion

chopped

1

clove

garlic

minced

16

oz

ground meat

of your choice

salt and pepper to taste

(optional for omnivore version)

6

oz

short pasta

of your choice

2-1/2

cups

broth

or water

15

oz

can of diced tomatoes

1/2

taco seasoning

see notes above on how to make your own

1

red bell pepper

chopped

11

oz

can of corn

15

oz

can of black beans

optional for vegan/vegetarian version

1

bunch

cilantro

chopped

1

cup

shredded cheese

of your choice

1

jalapeno

optional, chopped and seeded

1/2

cup

olives

black, sliced, optional

avocado

optional, chopped, add right before eating
Instructions
Add 1 TBSP oil of your choice to a large skillet over medium heat, followed by the onion and garlic. Cook and stir often for about 5 minutes or until fragrant.

Add the ground meat at this point with salt and pepper to taste and cook the meat, breaking it up and stirring often, for about 7 minutes until it's completely cooked through.

Add the pasta, water and diced tomatoes with 1/2 a packet of taco seasoning to the skillet. Stir well and bring to a boil. Cook uncovered for 10-12 minutes, until the pasta is fully cooked through. The extra water will evaporate as it cooks (and it's okay if there's some left). If the pan looks dry and the pasta is really sticking to the bottom of the pan, add more water.

When the pasta is done, add the bell pepper, corn, black beans, cilantro, cheese olives and jalapeno. You can also add more taco seasoning (1-2 tsp) if desired. Stir well and cook for five minutes on medium/low heat.

Assemble: divide the mixture between three meal prep containers. Top with any remaining cilantro leaves for garnish.