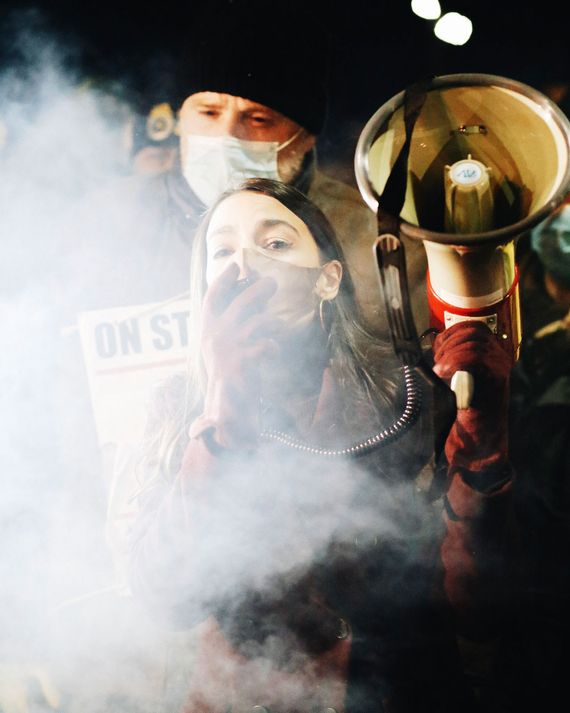 Representative Alexandria Ocasio-Cortez, speaking at the strike last week.
Photo: Alexandria Misch
Late on Saturday afternoon, as the sun was setting over the Bronx, Daniel Kane Jr., the president of Teamsters Local 202, reflected on his union's victory. Workers at the Hunts Point Produce Market had gone on strike the week before demanding a raise. From the outside, the Teamsters had nothing left to bargain. Their contract had expired, and unemployed laborers were waiting to take their place if the Teamsters didn't roll over and accept management's proposed 32-cent-per-hour raise — far lower than the dollar raise that the union wanted. "The people who didn't stand with us, they're always going to have that little twinge in their belly that they did the wrong thing," Kane said of the "scabs" who crossed the picket line. "Every one of you around here with each other is never going to have to feel that. Because when it was your time to stand up, you stood up and did the right thing. That's the power."
Including a 30 to 40 cents for employee benefits from the Hunts Point Produce Market merchants, the union workers received a promise of a 70-cent raise for this first year, with an additional 50 cents in 2022, followed by another 65-cent promise for the final installment before the cycle starts again.
Fernando Sosa Merino, a day-shift porter who has worked his entire adult life at the market, said he had never taken part in a strike. "I thought it would be over sooner," he said with a smile. But as a produce worker with an $18-an-hour base pay, he's in the tier that stands to see the largest wage increase.
One employee reflected on the emotional aspect of the strike. "Before, I felt very looked down on, very disappointed," he said. "I was optimistic that a deal would pull through." He expressed a sense of content with the new contract coupled with concern over potential retaliation from supervisors for workers who participated in the strike.
"I think sometimes upper-middle class, or wealthier people, to them, a dollar is nothing," Kane noted on his way to drink some celebratory champagne. "But the 70 cents means everything to them."
Daniel Kane Jr. at the strike.
Photo: Alexandria Misch
The result was not a foregone conclusion. Earlier in the week, the strike had been met with force by the NYPD. "They came out of the van stormtrooper ready," said Desiree Frias, a community organizer for the Bronx–Upper Manhattan branch of Democratic Socialists of America. The NYPD, Frias explains, "said it was a noise complaint — by whom? This is industrial zoning. No one lives here." (The incident was caught on tape by the Teamsters and condemned by many on social media, including Senator Bernie Sanders, who tweeted, "Essential workers should not have to go on strike for decent pay, and no worker should be threatened for exercising their constitutional rights.")
"The first night AOC came, there were trailers of horses," Frias continued, referencing Representative Alexandria Ocasio-Cortez. "The police brought horses. Six of them." She emphasized her disdain with each syllable. "The horses are out there in the fucking cold — not that animal rights are even on the mind right now. The horses were out there in tin cans, though ready to come out and trample some Black and brown folks. They never brought them out because she was here."
Support from big names like Ocasio-Cortez, Andrew Yang, and Padma Lakshmi proved crucial for the Teamsters, offering not only apparent protection but bringing much-needed visibility to the strike and helping to sway public opinion to the side of the Teamsters. (When asked why the mayor did not show up personally to support the strike, or whether he views it as a human-rights issue, a City Hall spokesperson declined to comment on the record.) The guests also followed the first rule of thumb for supporting a labor movement: Show up with food, like the 150 pizzas Lakshmi brought. "I didn't see him," said one worker who wasn't familiar with the Top Chef host. "But I ate the pizza. I definitely ate the pizza — Fratelli's!"
"I used to be a waitress," Ocasio-Cortez told the crowd, on the night she showed up, about the importance of supporting the workers. "Here's the thing about restaurants: Not all of them, but the one that I worked at, it was 'right to work.' We couldn't have a union. So we had to experience things like being forced to punch out before our work is done. We had to be paid less than a living wage. We got exposed to sexual harassment and other forms of harassment and degradation, with no one to stick up for us. So what changes that? A union changes that. Solidarity changes that. Standing together changes that."
Whitney Witthaus, a public-school teacher and a member of the DSA labor branch, explained that as more time passes between a contract fight or strike, the worse conditions can be if you don't have a strong union. "It can be tremendously taxing work in really, really shit conditions," she said. "They will exploit you if you do not fight back."
One of the most consistent masked faces among the essential workers during the strike was a representative for the South Bronx, Amanda Septimo, who spent her first two weeks in the Assembly providing physical and emotional support for the workers. In between bites of a sandwich that was donated by the DSA, Septimo gave me more info about reported involvement in the contract resolution by Governor Andrew Cuomo. She had asked the union leaders, "Tell me what I can do" to help end this strike, and they responded with an assignment: "Call the governor." Instead of informing them that she didn't exactly have Cuomo on speed dial, she called "every single person — everyone I ever knew."
Septimo said the union wanted Cuomo to call the market back to the bargaining table, which she said happened on Wednesday, the night of AOC's appearance. Septimo said the two parties were back at the table on Thursday. "We wouldn't be here without that intervention," she clarified. (I reached out to the governor's office to confirm this account, and to ask, if it is true, why the governor did not publicly claim credit for the mediation, but I did not receive a response.)
On Saturday, still basking in the good news, Local 202's recording secretary, Marc Adamo, wanted to talk to me about a detail that will stick with him: tamales from the mutual-aid table. "I consider myself a, uh — what's the word I'm looking for? — adventurous and diligent when it comes to eating," he said. I braced myself for whatever the self-identified "48-year-old Italian man who lives in North Jersey" might say next. "I was always hoping one day I'd be around someone who ordered one, and I'd be like, 'Let me get a taste of it.'" But in his four-plus decades of life, that hadn't happened until the strike. "One night, the tamales show up," he said. "At first bite, I was like, Why haven't I had these sooner? This is absolutely fantastic." Now he plans to make them a go-to order. "What's going to be awesome about it is I'm going to have a tamale and think about being here," he pointed out. "I'll always remember."