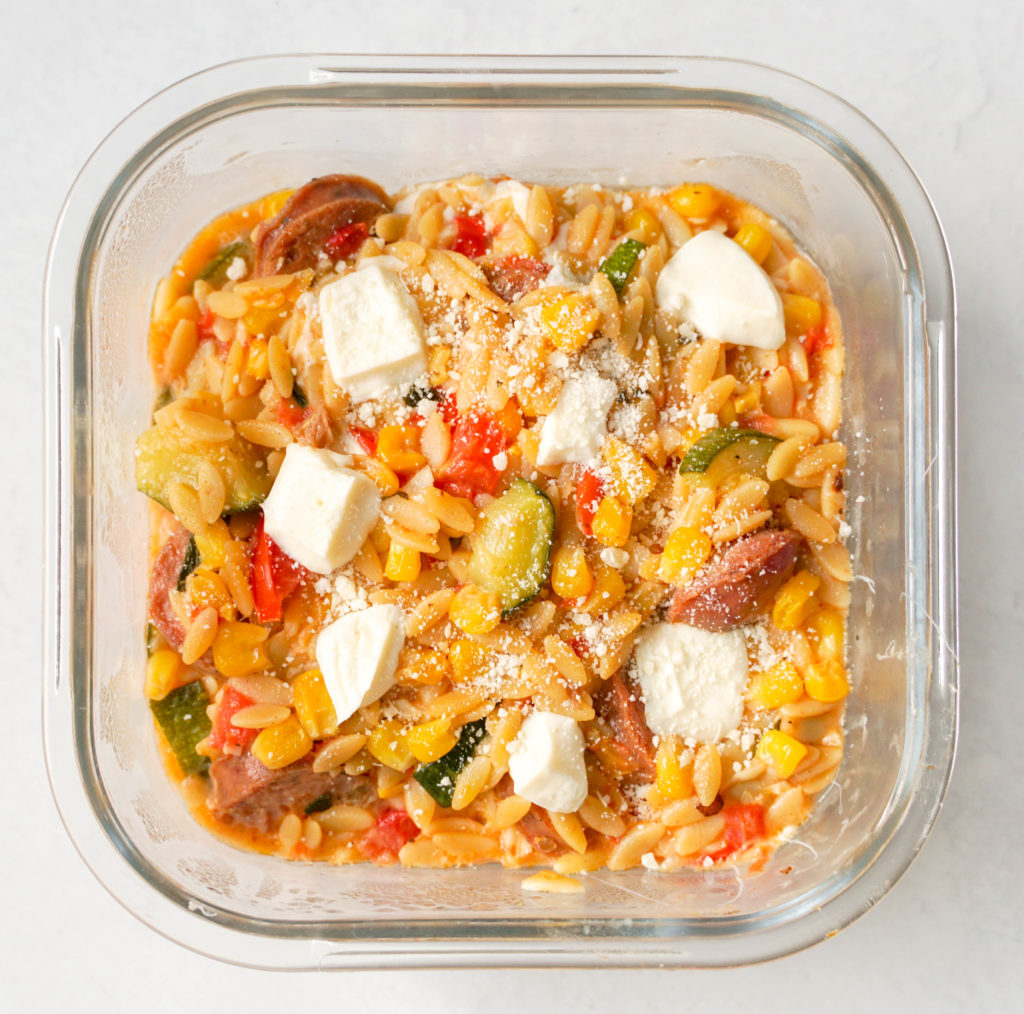 This recipe is inspired by the ever-popular zucchini and corn summer salad. We just took that combo, added orzo and tomato and voila! We have a delicious summery pasta meal.
Orzo skillets are one of our favorite one-pot template meals and if you want to see other combos, look no further. Check out all our other orzo skillet recipes here.
How to customize this orzo skillet
Veggies here are super customizable. Spinach, kale, asparagus, green beans, peas, summer squash, green bell pepper, yellow bell pepper, and orange bell pepper will all work! Note that you can skip the tomatoes if you want.
Can't find orzo? You can use other small pasta (think shells, macaroni elbows) and use the same cooking method. Other grains like quinoa, rice and farro can work too!
Swap the protein to what you like. Chicken sausage is the easiest, but you can also use chicken breast, turkey breast, any other kind of sausage, ground meat, tempeh, or chickpeas.
Make it dairy-free. Use your favorite dairy-free cheese (I love Daiya), or leave it out altogether.
If you LOVE orzo and are gluten-free, you can order it on Amazon (I'd say it's worth it because orzo is awesome).
This recipe is a good chance to use up fresh herbs.
Fresh rosemary, sage, oregano, and basil could all work in this recipe if you have any extra on hand. Don't use all four at once (pick one or two) and throw it into the mix on step 3.
Storage and reheating notes
This meal can last in the fridge for up to 4 days and it's freezer-friendly for up to 3-4 months. I recommend reheating it on the stove or in the microwave.
Happy prepping!
Zucchini, Corn & Tomato Orzo Skillet
Rating
Votes: 0
Rating: 0
Rate this recipe!
Prep Time
10 minutes
Cook Time
30 minutes
Servings
meals
Ingredients
1

TBSP

olive oil

sub oil of your choice

3

sausage links of your choice

chopped into rounds

1

cup

orzo

sub 6 oz small pasta

2

clove

garlic

minced

1-1/2

cups

water

sub broth of your choice

salt and pepper to taste

be generous!

1/2

tsp

oregano

1

zucchini

chopped into quarters on the thicker side

1-1/2

cup

corn

frozen, canned or freshly cooked

2

tomatoes

chopped

3/4

cup

mozzarella cheese

shredded, or if you have the big chunks of it, chop them up

1/2

cup

basil

optional, chopped
Instructions
Add the olive oil to a skillet over medium heat. Let it heat up for a minute or two, then add the sausage and let it cook over medium heat for about 5-7 minutes, stirring occasionally, until it's warmed through.

Add the orzo, garlic, water, salt, pepper and oregano. Stir the mixture and bring it to a boil. Then cover the pan and reduce the heat to low. Cook for about 5-7 minutes, then add the zucchini and corn to the pot. Make sure to check to see if any orzo is sticking to the bottom of your pan and scrape it off. Continue cooking the orzo for another 5-7 minutes until it's soft.

When the orzo is cooked through, stir in the tomato and mozzarella. Stir in basil if using. Taste the pasta before committing! You may want to add more salt and pepper. Turn off the heat.

Divide the orzo between three meal prep containers. Let it cool slightly before packing it up and placing it in the fridge!